news
Waterfall installation, "Interactive Waterfall" at the Spiral Garden, "Paradise Stage."
To mark the 60th anniversary of "Sanai-Mizugi," an exhibit entitled, "Paradise Stage," will be shown at the Spiral Garden (Spiral, 1st floor), starting Wednesday, May 13th.
WOW was in charge of directing and producing the interactive installation of the waterfall.
The theme of this installation is "paradise." The waterfall measures 16m wide and 3 m tall on the wall. When a visitor approaches the waterfall, the water is repelled in the silhouette of the individual. Beyond the waterfall lies the scenery of a beautiful paradise. Amidst the sounds of the waterfall, created by the 4ch surround speakers and the images, the paradisiacal atmosphere can be enjoyed.
Furthermore, if you gaze into the paradise beyond the waterfall for a while, you will discover a "special production."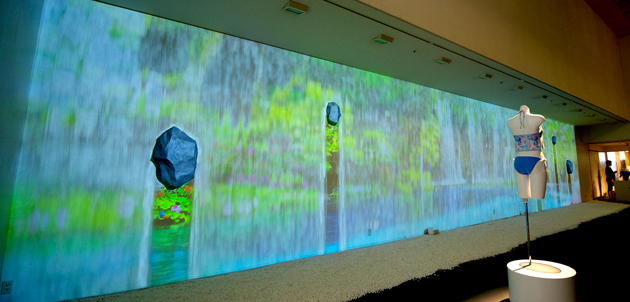 At the exhibition, the 60-year history of "Sanai-Mizugi" will be introduced, and the 2015 new swimsuit collection will be on display.
Walk around the venue, transformed into an atmosphere of translucent paradise. Through the installation, experience your self at a resort, and enjoy looking at the exhibits and shopping for the newest collections.

Date:May 13th(Wed) - 17th(Sun), 2015
Time:11:00-20:00
Venue:Spiral Garden (Spiral, 1st floor)
Address:5-6-23 Minami-Aoyama, Minato-ku, Tokyo
TEL:03-3498-1171
Admission Free


---