news
MAT Lab. in MEDIA AMBITION TOKYO 2015
WOW, a visual design studio active in a variety of fields both in Japan and overseas, and SANDWICH, a creative platform led by the contemporary artist Kohei Nawa, will be collaborating on an open lab project to be held at MEDIA AMBITION TOKYO [MAT] 2015.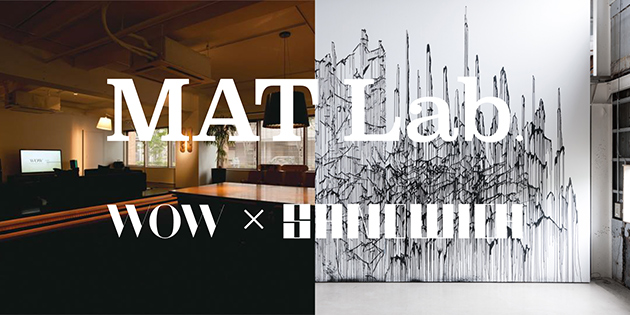 The MAT lab project came about as a result of a shared understanding between WOW and SANDWICH. Both stand out in the domestic sphere of media art, through their emphasis on concept driven expression and technology driven thinking.
This project, which aims to fuse design with contemporary art, is the beginning of a 'crossover' collaboration between W0W and SANDWICH. WOW took up the challenge to move from design to contemporary art, while SANDWICH took a bold step from the field of contemporary art into architectural design. At the MAT 2015 event to be held at the Mori Art Museum, WOW and SANDWICH will run operations from the main ticket office, which will act as a shared workspace for the duration of the event. Visitors will be able to see us up close, working together on our daily creative activities.
The aim of this project is to provide visitors with a better sense of how creators think, how they work, and what drives them to continue to create. By watching creative people at their daily work, sharing ideas in briefing sessions and working their way through the process of creation, we hope to give visitors a glimpse into the ambition that lies behind creative expression.
Date:February 11th(Wed) - 15th(Sun), 2015
Time:▶Detailed Information
Venue:ROPPONGI HILLS Tokyo City View Ticket Counter (Mori Tower 3F)
About MEDIA AMBITION TOKYO
MEDIA AMBITION TOKYO (MAT) is a real-life showcase of cutting-edge technological culture that takes an experimental approach to urban implementation.
It is a program for a new era that tangibly communicates new forms of expression, not just to the audiences who crave them, but also to creators and artists who defy genre categorization, as well as corporations, developers, and art buyers from around the world, all gathered in the "real" Tokyo to experience the cutting-edge of our times.
Creating such a space where people can meet and converse can produce private and shared senses of wonder and excitement that will help spread the ideas suggested by the project—and convey our messages to younger generations. The creative synergy produced from such genre-defying works of art will accelerate the development of new trends in technological culture. MAT will deliver a singular Japanese vision to the world, of technology and art coexisting in an urban setting.
▶MAT official website
SANDWICH
SANDWICH started off as a creative platform by renovating an old sandwich factory facilitated as art studio and a residential space. Consists of 40 members in teams such as "PRODUCTION" to implement ideas, "OFFICE" to undertake the management, "ARCHITECTURE" and "GRAPHIC" to work together within the network in diverse that develops liberal and dynamic collaborations. It is also a unique education system providing students of Kyoto University of Art and Design and internships of domestic and overseas to join many ongoing projects.
▶ SANDWITCH official website
WOW Kosuke Oho x SANDWITCH Kohei Nawa x JTQ Junji Tanigawa - Talk Session

With the theme, Design x Contemporary Art - the possibility of crossover, the talk session will take place.
Date:February 13th(Fri), 2015
Time:Start 19:00
Venue:ROPPONGI HILLS Tokyo City View Ticket Counter (Mori Tower 3F)
Admission:Free
Only 30 seats will be available and other guest can watch the session standing up.
How to apply:Fill out the "February 13th hope" in the mail title. Send your address, number, name, age, and occupation to info@mediaambitiontokyo.jp.
Deadline:February 11th(Tue), 2015
---