news
Art piece "aikuchi" designed by Marc Newson.
Limited edition: ten pieces only.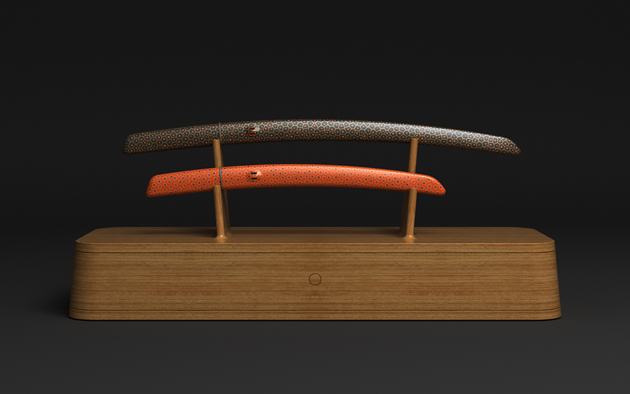 The art of Japanese sword making, has a history dating back more than 1000 years, and is considered the height of traditional Japanese craftsmanship. Not only the blade itself, but the entire piece including all the decorative sword fittings, is a work of art and is now drawing much attention from a legion of dedicated fans and art collectors the world over.
But how could we add a more global perspective and bring a new look to an art piece that is the absolute pride of Japanese culture? With this goal in mind, we invited the world famous designer; Marc Newson to join the project. Working tirelessly together through much trial and error, we eventually were able to accomplish our mission and complete"aikuchi" to perfection at last. "Aikuchi" does not incorporate a "lower guard"into its design, and is therefore considered by some people to be more of a "lucky charm" than a weapon. The name "aikuchi" was chosen for this project to highlight the tight coupling between the sword, handle and scabbard, and also to draw attention to the fusion of two different cultures. Please take this opportunity to see "aikuchi", which was created by incorporating "a Japanese sense of beauty", "traditional craftsmanship" and "innovative design".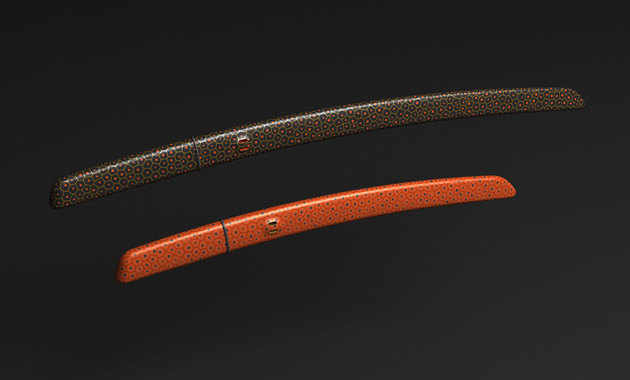 The "aikuchi" exhibition will be held at the Tokyo Art Club on March 19th & 20th. For more than 100 years, it has been the aim of the Tokyo Art Club to preserve, nurture and promote Japanese art excellence. In harmony with the concept of "aikuchi", WOW will be unveiling a new installation at this exhibition. The world famous designer Marc Newson, himself, will be visiting Japan, and will be at the reception on the 19th.
*Please note that we will be sending out invitations, and an invitation is necessary for all visitors.
WOW × Marc Newson "aikuchi" exhibition
Organizer:: aikuchi Production Committee
      (WOW inc. / Marc Newson Ltd / EXS inc. / Tohoku ministry of Economy, Trade and        Industry)
Location:Tokyo Art Club 3rd floor
Address:6-19-15 Shimbashi Minato-ku, Tokyo
Tel:03-3432-0191
Schedule:March 19(Wed) 10:00-18:00 Press preview|18:00-20:00 Opening reception
      March 20(Thu) 10:00-17:00 Opening to the public
Web site:w0w.co.jp/aikuchi/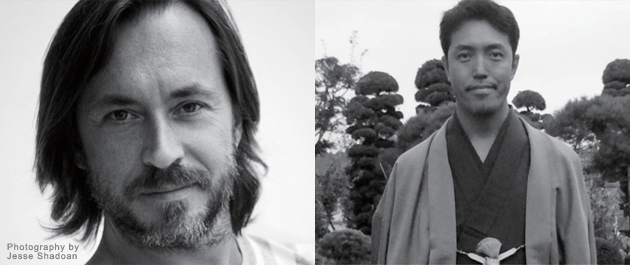 ■Marc Newson
Profile:
Marc Newson has been described as one of the most influential designers of his generation. He has worked across a wide range of disciplines, creating everything from furniture and household objects to bicycles and cars, private and commercial aircraft, yachts, various architectural commissions, and signature sculptural pieces for clients across the globe.
Background:
This work became a special project for Marc Newson, who used to live in Japan for a period of time. He has great respect for Japanese culture and creative craftsmanship. Marc, who has a profound working knowledge of blades, has long considered the Japanese sword to be the quintessential blade. While designing 'aikuchi', Marc Newson came to Japan, visited the Tohoku region, and met with many different artisans to try to better understand the ways and traditions of Japanese craftsmen, and to learn about the specific techniques used in the region. The final product of this research was 'aikuchi'; a modern piece of work, that draws on the most appealing and attractive traditions of the Tohoku region.
His approach:
Except for the blade, Marc Newson designed the entire piece. He designed all the decorative sword fittings, from the graphic pattern of the scabbard, to the redesign of the lower guard, the string, the case, and the display. And all of these were designed in such a way as to incorporate the techniques and traditions of local craftsmen.
■WOW inc Hiroshi Takahashi
Profile:
The president of WOW inc, Hiroshi Takahashi, was born into a family of swordsmiths. The family trade dates back to, and has continued from generation to generation, since 1700. Mr. Takahashi grew up surrounded by antiques and traditional crafts. He established WOW in Sendai in 1997, and then expanded and broadened his field to Tokyo in 2000, and to London in 2007. He is now passionate about sharing his modern sense of traditional Japanese beauty with the world.
Background:
WOW has worked on many visual design projects in the past, but this is the first time the company has produced a design piece completely and comprehensively from initial conceptual design to finished product. In Hokke-ke Miyagi, Hiroshi Takahashi's birthplace,the traditional fields of arts and craftsmanship, considered cultural assets to the region, have been facing much difficulty since the March 2011 earthquake.
Takahashi therefore invited the world famous designer; Marc Newson to work together with WOW and a number traditional Tohoku craftsmen, to create a Japanese sword that would attract the attention of the global market. He was eventually able to accomplish his mission and produce a Japanese sword that is truly a work of art in the modern era.
His approach:
In this collaborative project with Marc Newson, the unique blade case was designed by drawing upon the skills and traditions of 'Iwayado Tanse' [chest of drawers] craftsmen from the Hokke region, and by using techniques traditionally used in the production of Hidehira Nuri, which is a type of traditional 'Urushi Lacquerware'.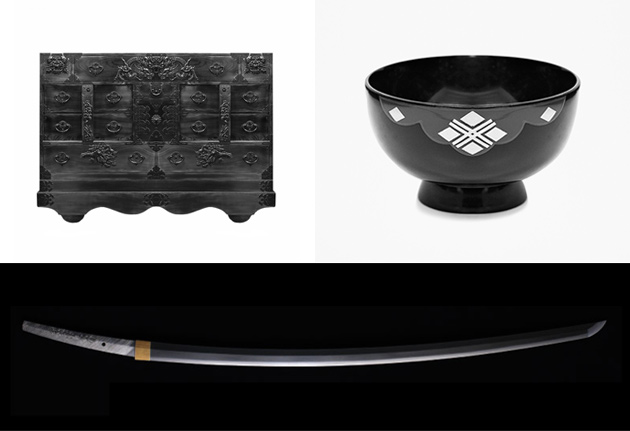 ■IWAYADO TANSE (CHEST) - Craftsman: Koichi Oikawa
The IWAYADO Chest originated in 'Iwayado Hiraizumi', which was a flourishing urban center during Japan's medieval era some 800 years ago. During this period, the finest woodwork, lacquerware, and metalwork craftsmen were summoned from Kyoto to Hiraizumi, which is located in the northern Tohoku region of Japan. These artisans worked tirelessly on the first early prototypes of the Iwayado chest. Koichi Oikawa has contributed greatly to the evolution of the Iwayado chest. In particular, he is responsible for first introducing the "hidden dovetail" technique into the Iwayado chest. This advanced technique requires a high-level of artistic proficiency and has become recognized as a new traditional technique.
■HIDEHIRA NURI (URUSHI LACQUER) - Craftsman: Yuya Sasaki
HIDEHIRA NURI is lacquerware that has its roots in the era of Oshu Fujiwara at the end of the Heian era. It is said that Fujiwara no Hidehara summoned great craftsmen from Kyoto and had them set about using large amounts of gold and lacquer (URUSHI in Japanese) to produce vessels, specially designed in the local style. During the Fujiwara dynasty, it is believed that Hiraizumi was dedicated to the development of a golden culture, and was committed to establishing the village as a great center for URUSHI craftsmanship and production. Basing his work on original URESHI shape, form and traditional techniques, Yuya Sasaki has continued to develop pieces that are in vogue with modern times.
■YAMATO DEN (BLADE) - Craftsman: Saburo Nobufusa Hokke
YAMATO DEN was completed by master craftsmen, Yasumasa Sadakichi and Sadamune in Nara prefecture at the end of Kamakura era. The first generation of Hokke, Kiyofusa, moved to where Miyagi Prefecture is today, in order to focus on the art of producing high quality 'Katana' swords. The Hokke family has been Miyagi since that time, and continue to study and refine their highly-prized artistry and workmanship.
Today, Hokke Saburo Nobufusa, the 9th generation Hokke, continues to reach for ever greater heights in his quest for the ultimate in artistic excellence, while honoring the artistic spirit and style that has been passed down from generation to generation.
break
news
Crystal Aqua Trees 2012 "iF Communication Design Award 2014" won the Prize
The installation for Sony's charity event, the 45th "Ai no Izumi" (Fountain of Love), displayed at Sony Square in 2012, won the prize for "iF Communication Design Award" of a German's international design award "iF DESIGN AWARD 2014".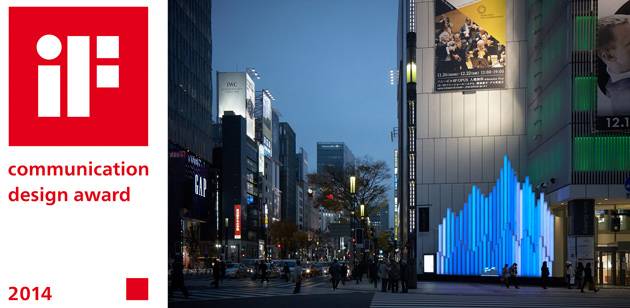 iF DESIGN AWARD
iF DESIGN AWARD, operated by design promotion company iF Industrie Forum Design Hannover in Germany, consists of three disciplines: "Product", "Communication", "Packaging". Since its inception in 1953, a lot of outstanding industrial design have been elected.
"iF Communication Design Award", we won a prize this time, target for digital media, cross media, and corporate architecture. There were 1,102 entry and 311 were awarded a prize.
▶iF DESIGN AWARD
▶Crystal Aqua Trees
break
WOW on media
---