news
Projection Mapping Live on NHK
Info on the Live TV program Tokyo Skytree/Projection Mapping
On this Saturday, 12th May, we will present one of the nationally largest projection mapping, which NHK General will broadcast live 10 days prior to the opening of Tokyo Skytree.
The movie will be cast on the tall building by 26 super bright projectors.
The theme is Edo, Tokyo and the future.
The world stunning tower is created within the fusion of "traditional culture" and "modern technology". On the live, we will show vivid motion graphics with vibrant music. Enjoy our live show on TV!
Tokyo Skytree/Projection Mapping
Motion Graphics: WOW
Music: Taisei Iwasaki
Song: "Sakasama no Sora" by SMAP
Featured Program "All Attractions of Skytree"
Saturday 12th May
NHK General PM7:30 - 8:45 Live
NHK BS Premium PM5:00 - 10:00 Live
http://www.nhk.or.jp/skytree/program/miryoku.html
*WOW's projection mapping will be broadcast around PM8:00.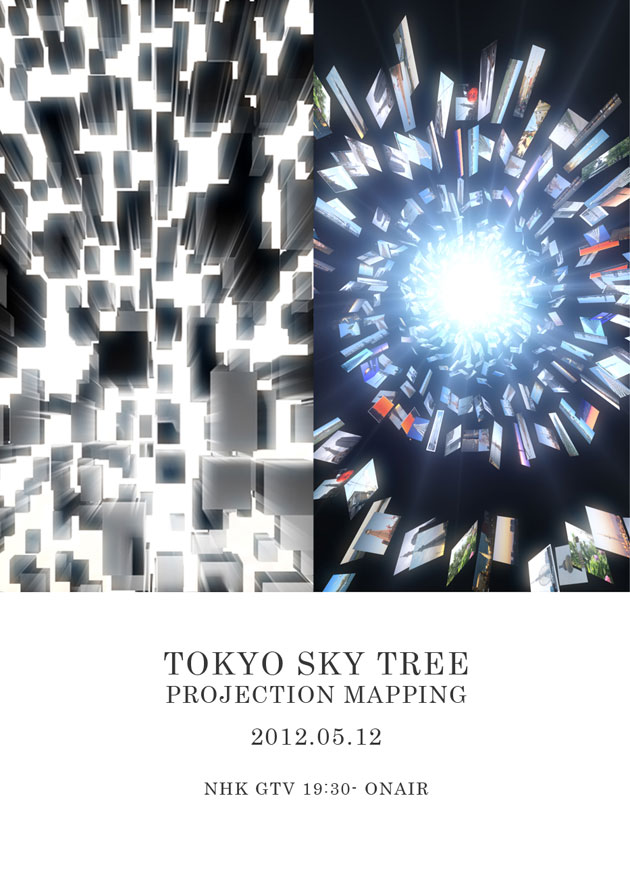 WOW on media
---