news
JAPAN CAR
WOW's latest visual installation work at the exhibition is entitled "The view from there".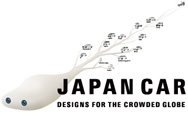 JAPAN CAR by DESIGN PLATFORM JAPAN
japancar.designplatformjapan.com
Term:
Paris / 1st - 9th November 2008
London / 29th November 2008 -19th April 2009
Venue:
Paris / Cité des sciences et de l'industrie | 30, av Corentin-Cariou 75019 Paris
London / Science Museum | Exhibition Road, South Kensington, London SW7 2DD.
Partners:
Toyota MotorCorporation, Honda R&D Co.,Ltd., Nissan Motor Co.,Ltd., Mazda Motor Corporation, Mitsubishi Motors Corporation
Suzuki Motor Corporation, DaihatsuMotor Co.,Ltd., DENSO Corporation, Hitachi, Ltd., Akira Yamaguchi, WOW, Seiji Morimae
Exhibition design : Shigeru Ban | architect
Curator : Kenya Hara | graphic designer
break
The view from there
Highway infrastructure, lined with re-imagined road signage, emerges from the countryside, fractures and twists between buildings as it proceeds to the city.
This view, as we advance from the rural to the urban, explores Japanese scenery in its entirety.
The various ideas that flow from moving through this stimulating and distinct environment influence the unique designs of Japanese cars.



---